May your choices reflect your hopes, not your fears
– Nelson Mandela
Why Natural and Holistic Health
Natural and holistic health provides an alternative approach to conventional medicine, and focuses on the entire body while looking for the root cause of illness. Individuals with chronic conditions or those interested in avoiding pharmaceuticals, typically benefit from natural health practices and philosophy.
Natural health, as practiced by Traditional Naturopaths, incorporates unique, individualized assessment of physical, emotional, and environmental factors to identify opportunities to improve health. Natural and holistic health aims to improve your health by using the healing power of nature including: food, vitamins and minerals, herbal remedies, essential oils, homeopathic, and flower essences.
Conditions and Symptoms
Current scope of practice and knowledge areas include the conditions and symptoms below, with a special interest in working with clients that have been unable to achieve their health goals using conventional medical protocols and want to feel good again.
Hormone health:  adrenal, thyroid or ovarian hormone imbalances including hot flashes, low energy, low libido, and poor sleep
Digestive health:  heartburn, gas, belching, poor digestion, constipation, liver conditions, gallstones, and cholesterol imbalance
Urinary tract health:  kidney function, chronic UTIs, bladder infections, blood pressure issues
Mental health:  anxiety, depression, low energy, difficulty concentrating, sleep issues
Autoimmune and chronic conditions:  natural remedies to support easing various symptoms while working to identify the root cause
Hormone Health – Naturally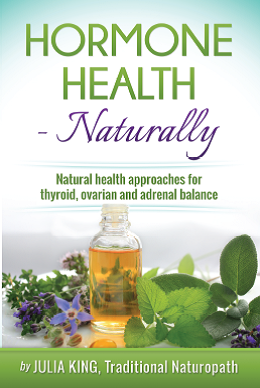 Hormone Health – Naturally is a resource guide for women interested in natural health approaches for thyroid, adrenal and ovarian hormone health. This book provides simple testing techniques, suggestions for natural remedies, ways to optimize function and numerous naturopathic insights to help enable you to bring your hormones back into balance, naturally.
I really love working with clients on their hormone health - specifically thyroid, adrenal and ovarian hormones of estrogen and progesterone.  I see a lot of women, in their late 30s to early 60s, that are complaining about sleeplessness, short periods or too frequent...
read more